Pep Guardiola after Erling Haaland scores 30th Premier League goal of season: "He's quite similar in terms of Cristiano [Ronaldo] but [Lionel] Messi is the more complete player. Messi can play wherever while Cristano and Erling are machines"
Is Erling Haaland now at the level of Cristiano Ronaldo and Lionel Messi? Pep Guardiola sees comparisons with Ronaldo but thinks Messi remains "the complete player".
Haaland marked his return from injury with two goals as Manchester City kept up their pursuit of Arsenal with a 4-1 win at Southampton.
Haaland stole the show, summed up by a second goal which was a devastating acrobatic finish to take his tally for the season to 30 Premier League goals and 44 in all competitions. He is just five goals away from breaking Andy Cole (93/94) and Alan Shearer's (94/95) Premier League record of 34 goals in a single season.
When asked if Haaland is now at the levels associated with Ronaldo and Messi, Guardiola replied: "In terms of the thesis of scoring goals. He's quite similar in terms of Cristiano but Messi is the more complete player. Messi can play wherever while Cristano and Erling are machines. Erling knows those two guys dominated over two decades not just one or two seasons, winning titles and doing everything.
"Football is a better place for Cristano and Messi for what they have done for our business, the traction of these two guys competing at the big clubs.
"Erling is arriving in the toughest league in the world. I can talk as I've been in other leagues and doing what he has done is remarkable.
"Erling is here for these types of games, it was a little bit hard but he has the ability from an incredible assist from Kevin [De Bruyne] to break the game."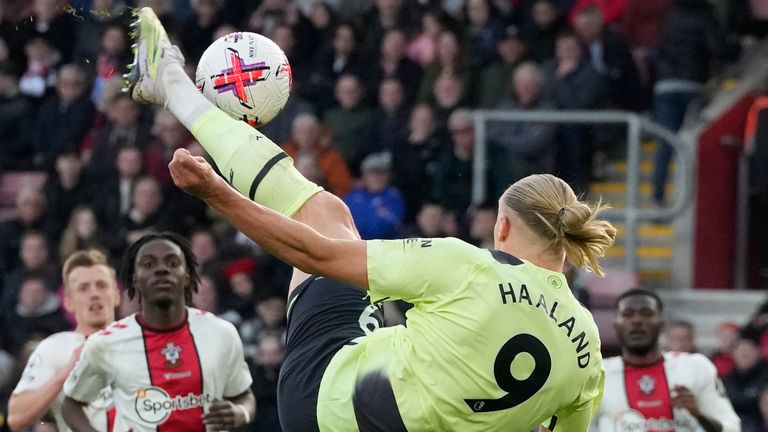 Guardiola did admit his young striker still has work to do to be bracketed with the two modern greats, citing his freakish build as a potential barrier to staying fit for long periods.
He said: "He is so competitive but to reach the Cristano and Messi levels is a lot of work. They don't get injured. Erling is tall, he's huge, he needs a lot of care, physios, not just one but a lot of people.
"He has an incredible mindset. His head is in the right place. He lives to be professional. I know his reaction when he misses goals but he's only frustrated for five minutes. His mindset comes back in the right position and he knows what he has to do.
"He has the same pressure as Messi and Cristiano – when they don't score for two or three games, people ask what's happened. The numbers he has at his age are unbelievable."
De Bruyne: Haaland is insane
"A lot of people were talking online and it's something you can't really miss, but you try to create as much as possible. I could have had two or three more. If they score, I get the assist.
"I'm known for my creativity, there are not many players who have 100 assists, but half of the side is mine and after the side is the other.
"I don't compare. Cesc Fabregas is an unbelievable football player and that's the best I can do. I try to create as much as possible and we score a lot of goals, that helps.
"Honestly, Erling scores a lot of goals. He's insane. He's there. If you create chances he will be there. We have a good combination."
Opta stats: Freakish Haaland
Haaland has scored 30 Premier League goals this season, one of just three players to net 30+ in their debut season in the competition along with Andrew Cole (34 in 1993-94) and Kevin Phillips (30 in 1999-00).
Southampton conceded 4+ goals in a Premier League game for the fourth time this season, their joint most in a single campaign in the competition.
Grealish has been involved in 10 goals in 15 Premier League games since the World Cup (4 goals, 6 assists). Only Erling Haaland (14) has been involved in more for Man City in that time, while it's three more than Grealish managed in his first 34 appearances for the Citizens (4 goals, 3 assists).