There once was a time when the PlayStation 3 was the pinnacle of console gaming, a feat of technological engineering that arrived in 2006 alongside other seventh-generation platforms like the Nintendo Wii and Xbox 360. Gamers old enough to remember 8-bit and 16-bit titles or even older games from the Atari era, were thrilled to see the stunning graphics and power of the PS3, which saw the release of iconic games like "LittleBigPlanet," "Bioshock," and the original "Uncharted" titles.
But, more than 15 years since its release, the PS3 is practically a relic. An entire generation of gamers has since grown up having never played the console, though many of its innovations live on today in the PlayStation 5. Some of its features are obscure enough that you may have even forgotten they ever existed, but that doesn't mean they weren't cool, exciting, and fun while they were around. Here are five forgotten PS3 features that will give you the warm and fuzzy nostalgia that only the most beloved consoles from yesteryear can muster.
3D stereoscopic gaming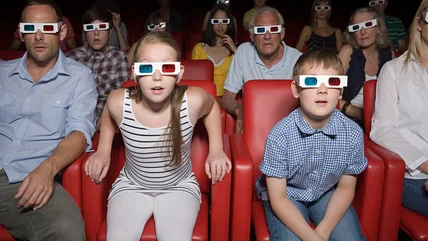 Stereoscopic gaming added depth to the experience as if you could reach out and touch NPCs and other game elements. The PS3 didn't need any additional hardware to play stereoscopic games — though a software update was necessary, and users had to tweak their console settings to enable 3D. Of course, a 3D TV was necessary as well. There were plenty of stereoscopic titles to play in 3D too, because the library wasn't limited to minigames or titles made specifically for the format. Stereoscopic 3D games for the PS3 included "Gran Turismo 5," "Crysis," "Uncharted 3," "Call of Duty: Black Ops," "Batman: Arkham City," and many more.
PlayStation Eye and PlayStation Move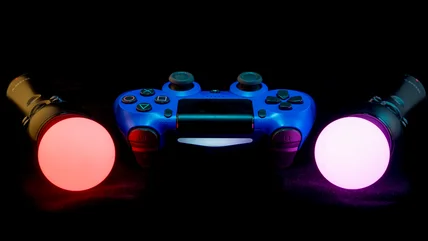 It didn't take long after the massive success of the Nintendo Wii for Sony to come up with its own motion-control peripheral for the PS3: the PlayStation Move. The Move had a similar wand-like design to the Wiimote, though with a big bulbous sensor on the end that could light up in different colors. The orb was tracked by an additional peripheral, the PlayStation Eye, which was released in October 2007.
The PlayStation Eye was succeeded by the PlayStation Camera for the PS4, but the look and specific use cases for the Eye lend the peripheral a nostalgic charm that harkens back to when technology was just beginning to utilize two-way video and augmented reality in a mainstream fashion.
The PlayStation Eye could capture SD video with a frame rate of either 60Hz (at 640×480 resolution) or 120Hz (at 320×240). It had two different field-of-views: 56 degrees or a wider 75 degrees. It also had a built-in microphone capable of voice location tracking, echo cancellation, and background noise suppression. The Eye could be used for both video and audio chat and worked with EyeCreate video editing software for nascent video blogging and other content creation. Paired with one or two PlayStation Move controllers, you could play Wii-type games with PS3-level graphics and power, like "Resident Evil 5," "Tiger Woods PGA Tour," and "Just Dance."
PS1 backwards compatibility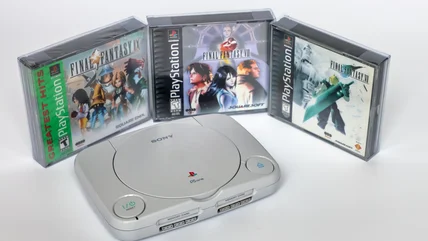 While there are some classic original PlayStation games available to digitally download and play on the PS5, the PlayStation 3 was backwards compatible with all PS1 titles, thanks to its disk drive. Depending on which version of the PS3 you had, you could also play physical PS2 games.
This greatly expanded the library of titles you could play on the PS3, especially since digital gaming was still in its early years. You could pick up pre-owned PS1 games from your local GameStop or other retailer for cheap to add to your collection of more expensive PS3 titles.
It also allowed you to keep playing your favorite games from two generations earlier that didn't have modern equivalents, but that you didn't want to stop playing just because you upgraded your console. Playing PS1 games on a PS3 can evoke a double dose of nostalgia, and have you reminiscing about the days when you were reminiscing about the games from nearly 30 years ago.
BD-Live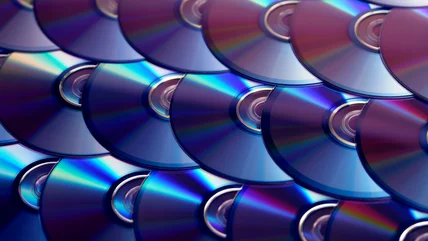 One of the coolest things about owning the PlayStation 3 was that it meant you had a Blu-ray player. This was great, because dedicated Blu-ray players were typically very expensive at the time, as the HD upgrade from DVD technology was still only a few years old. This made the PS3 not just a gaming console, but a multimedia device, foreshadowing the further blending of the two in subsequent generations with the Xbox One and PlayStation 4.
The PS3 made it easy for anyone to watch movies and TV shows with its Blu-ray player. Thanks to an accessory that looked and worked just like typical television remotes of its day, you wouldn't need a PlayStation controller to awkwardly pause, rewind, and navigate Blu-ray menus.
Additionally, the PlayStation 3 had a feature called BD-Live. BD-Live was an early example of physical media being enhanced with an internet connection to download additional features, a precursor to always-online smart TVs and modern consoles. With BD-Live, you could access behind-the-scenes content and scheduled internet chats with filmmakers, as well as downloadable movie trailers, trivia, and other games.
Cool, unique peripherals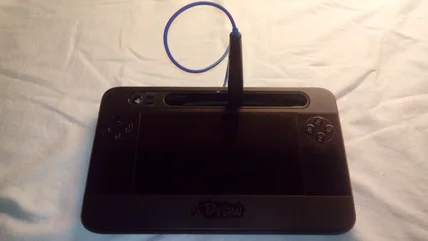 As long as there have been game consoles, there have been oddball peripherals you can't help but be nostalgic about. The PlayStation 3 was no different and had several unique accessories that would only work properly with a small handful of games. While some are still well-known — like the guitar and other instruments from the "Guitar Hero" and "Rock Band" series — there are others you may have used constantly years ago but have now completely forgotten about.
Activision sold a plastic balance board peripheral that resembled a skateboard with no wheels. It was used for two games, and not much else: 2009's "Tony Hawk: Ride" and its 2010 sequel "Tony Hawk: Shred." The accessory was used by players to not-quite-simulate ollies and other skateboard moves, similar to how "Guitar Hero" gave a rough interpretation of what actual guitar playing was like. In "Shred," you could also use the controller to snowboard.
Other funky accessories include the uDraw GameTablet, which predated the rise of the Wii U. The uDraw was released in 2011 and could be used to make digital art, as well as play PS3 games like "Pictionary" and "SpongeBob SquigglePants." Another peripheral was the "Buzz!" Buzzer, a retro-looking handheld buzzing device made specifically for the trivia game series "Buzz!" The USB controller aimed to give you a true quiz show experience while playing in front of your PS3.
2023's list of PlayStation exclusives is equal parts anticipated AAA games and indies. We expect three Square Enix titles, a long-awaited follow-up to the best open-world superhero simulator since "Batman: Arkham City," and no less than two new adventures in Guerilla Games' "Horizon" franchise. That's not to say Xbox, PC, and Switch owners won't receive any noteworthy titles — we're looking forward to "Fire Emblem Engage" and "Alan Wake 2" — but what's the point of buying a PS5 if you can't use it to play games unavailable on other consoles? Here are the PS5 exclusives we expect to blow away audiences in 2023.
Forspoken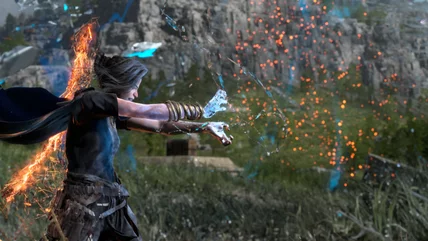 These days, Square Enix releases two kinds of titles: New entries in legacy franchises and everything else. Usually, another studio develops titles that fall into the "everything else" category, and Square only handles publishing duties, but "Forspoken" is one game that is an "everything else" game developed by the studio behind "Final Fantasy XV."
Admittedly, "Forspoken" can be divisive. Ever since the initial trailer, many viewers found faults within the aesthetics. Accusations of making the game "woke" were common, and many viewers felt the dialogue was bad. Given the divisive reception of "Final Fantasy XV," the fact that the same team developed both games didn't help. But now that content creators and the general public have their hands on demo builds, players are opening up to "Forspoken."
The general consensus is "Forspoken" is genuinely fun thanks to its sandbox approach to combat. Players can mix and match attacks within different magic schools, and given the game's open-world size and design, audiences will have plenty of room to experiment. Even if the story is sub-par (which seems unlikely since the writer wrote for "Rogue One"), the combat and traversal will keep players entertained. If nothing else, the recent "Forspoken" demo has demonstrated the game's promise.
Final Fantasy VII Rebirth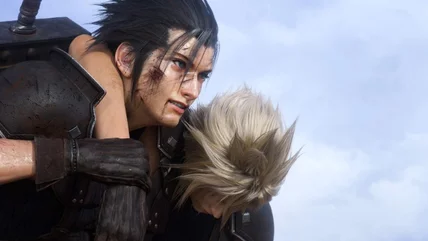 Gamers have wanted a "Final Fantasy VII" remake ever since Square Enix released a tech demo trailer of the opening cutscene redone for the PlayStation 3. Audiences had to wait until the tail end of the PlayStation 4's lifecycle for a proper "Final Fantasy VII Remake," and the result left gamers wanting more. Yes, the title was that good, but it also only told part of a story, one that will continue in 2023.
Likely,"Final Fantasy VII Rebirth" will play a lot like "Final Fantasy VII Remake" since "Rebirth" is a direct sequel and will pick up from where "Remake" left off. The combat was one of the game's strong suits, but so was its story. Sure, the narrative of "Remake" only covered a fraction of "Final Fantasy VII," but that design choice let the story focus more on characters who received little attention in the original. Odds are the same will hold true in "Rebirth."
Judging by the sole trailer, "Final Fantasy VII Rebirth" will finally let players venture outside Midgar and, more importantly, explore the new narrative of characters trying to defy fate. The trailer even shows Cloud teaming up with Sephiroth. Will this be a new sequence or a retelling of the famous Nibelheim flashback scene? More importantly, will Aerith die in "Rebirth" as she did in the original "Final Fantasy VII," or has the future changed enough to defy that fate? The community of players can't wait to find out.
Final Fantasy XVI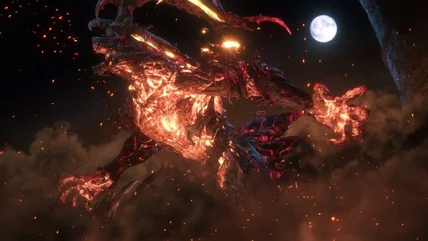 The "Final Fantasy" series has lacked an important key feature for a while — fantasy. The "Final Fantasy" series has focused more on sci-fi than fantasy ever since "Final Fantasy VII," which is one reason to be are excited for "Final Fantasy XVI."
While a demo isn't yet available, trailers make it abundantly clear "Final Fantasy XVI" will return the series to its fantasy roots, but it will be a fantasy catered to older audiences. Each trailer demonstrates that the game world will be dark and gritty. Not "Dark Souls" dark, though; more like "The Witcher" or "Game of Thrones" dark, where war, political intrigue, and revenge are a daily part of life. Plus, the game will reportedly feature an "M for Mature" rating for stuff like drug use and torture (via Kotaku). That's certainly darker than any prior "Final Fantasy" games.
While some might balk at the idea of another action-based "Final Fantasy," the combat looks fast and satisfying. More importantly, the system designers appear to have taken the criticisms of "Final Fantasy XV" to heart. Of course, we won't know how much fights have improved until we've played a demo, but current impressions point towards a superior experience. Here's hoping "Final Fantasy XVI" pans out like that.
Marvel's Spider-Man 2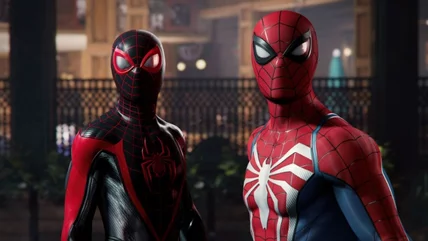 2018's "Marvel's Spider-Man" is to video games as 2002's "Spider-Man" is to movies; both are beloved titles that paved the way for future Marvel media. But while the "Spider-Man" film was followed by a spectacular sequel two years later, a sequel for the "Marvel's Spider-Man" game has yet to show.
So far, there's one trailer for "Marvel's Spider-Man 2," which teases Kraven and Venom as the main villains. Then again, anyone who finished "Spider-Man: Miles Morales" (which is a side-story, not a sequel) saw this coming since the ending hints at the latter alongside Dr. Curtis Connor, aka. The Lizard. Given what the first "Marvel's Spider-Man" game did with its Rogue's gallery, especially Dr. Otto Octavius, expect "Marvel's Spider-Man 2" to humanize its villains and make them as relatable as the heroes.
Speaking of heroes, if the first two "Marvel's Spider-Man" games are any indication, "Marvel's Spider-Man 2" will also deliver amazing gameplay. Combat was a strong point of "Marvel's Spider-Man" serving as an acrobatic evolution of the rhythm-based system popularized by "Batman: Arkham Asylum." Plus, web-swinging around a digital New York City provides a visceral sense of enjoyment that defies description. It's probably safe to say "Marvel's Spider-Man 2" will continue these strengths and even improve them. And, since Spider-Man and Miles Morales share screen time in the trailer, maybe gamers can choose who to play as in "Marvel's Spider-Man 2" — and perhaps even divide and conquer with multiplayer.
Horizon Call of the Mountain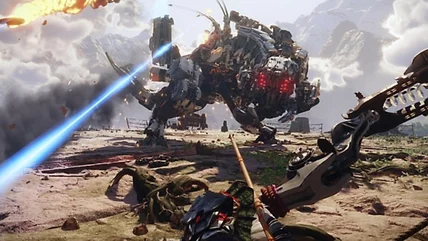 "Horizon Zero Dawn" gave Guerilla Games the success it deserved. Now, "Horizon" is a big-name franchise, complete with a sequel, board game, and an upcoming VR spinoff. Given the PlayStation's previous luck with VR titles, that final idea sounds like a winner.
Unlike other "Horizon" titles, "Horizon Call of the Mountain" will focus on a new protagonist, Ryas, and won't feature an open world, but much of the appeal will remain intact. The game's website boasts it will deliver the same living, breathing world of prior "Horizon" games, and trailers demonstrate a lot of combat will involve hunting giant robots and strategically dismantling them to gain an edge. If you thought fighting a Thunderjaw in "Horizon Forbidden West" was terrifying, wait until "Horizon Call of the Mountain" forces you to actually crane your neck up to get a feel for the monstrosity's true scale.
It might be too early to judge "Call of the Mountain" by its trailers, but the game might serve as the PlayStation VR2's killer app. In many ways, the game shares a lot of DNA with Valve's "Half-Life Alyx," from first-person VR combat to utilizing VR tech to deliver beautiful vistas. Here's hoping "Horizon Call of the Mountain" pushes quite a few PS VR2 sales.
Horizon Forbidden West: Burning Shores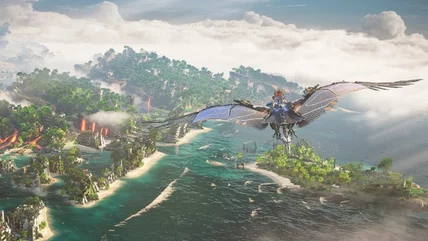 Technically cheating a bit here since "Horizon Forbidden West: Burning Shores" is DLC and not a standalone game, but it's still going to be a PlayStation 4/PlayStation 5 exclusive. Plus, "Burning Shores" may be the best DLC audiences play in a while.
During the recent 2022 Video Game Awards, Sony unveiled "Burning Shores." The trailer didn't show much aside from Aloy flying on a Sunwing above the literal burning shores of Hollywood since the area is now a semi-active volcanic zone. Oh, and a giant robot wakes up right before the trailer provides a release date. Admittedly that's not much, but it's enough on pedigree alone.
As already established, the "Horizon" games are beloved vanilla experiences, but Guerrilla Games also provided extra content to those willing to take the plunge. "Horizon Zero Dawn" received the "Frozen Wilds" DLC, which added new snowy wastelands, enemies, and weapons, all backed by a solid campaign. With that kind of history, odds are "Horizon Forbidden West: Burning Shores" will provide a similar level of quality and content. Anyone who didn't enjoy "Forbidden West" probably won't enjoy the DLC, but anyone who did will find plenty more to love.
Stellar Blade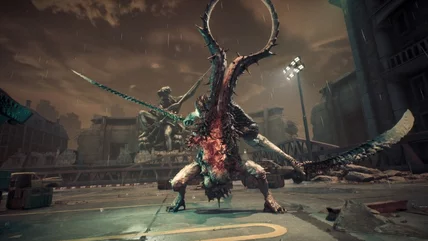 During the 2021 PlayStation showcase, Sony introduced audiences to the Korean game "Project Eve." Fast forward one year to the 2022 September State of Play, and Sony has another trailer for the game, this time with the finalized title of "Stellar Blade." The game looks promising.
The trailers makes clear that "Stellar Blade" wears its inspiration on its sleeves. The action and soundtrack channel games like "NieR: Automata," as swordplay is fast and fluid, and music is the right mix of heart gripping and atmospheric. Plus, "Stellar Blade" will include its own combat-accentuating murder drone, which is always a plus.
Most gamers probably have never heard of the developers behind "Stellar Blade," Shift Up, but that's not surprising since the studio has mostly created mobile titles such as "Destiny Child" and "Goddess of Victory: Nikke." "Stellar Blade" is Shift Up's first non-mobile game, and if trailers are any indication, it could be the first of many console projects for the studio, possibly even the first of many PlayStation exclusives. Fingers crossed.
The Dark Pictures: Switchback VR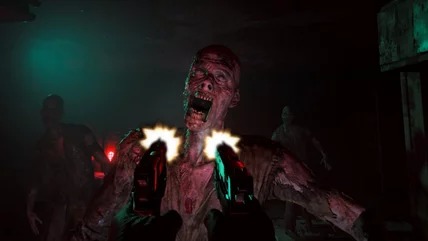 Before Supermassive Games developed its "The Dark Pictures Anthology" series, the company proved its narrative-horror chops with "Until Dawn." While Supermassive followed that title with the aforementioned "The Dark Pictures Anthology" and "The Quarry," the studio also developed a spin-off, "Until Dawn: Rush of Blood." However, there wasn't a successor to that title until now.
Judging by the trailer and website for "Switchback," the game will hit most of the same points as "Rush of Blood." When players strap on the PlayStation VR2 headset, "Switchback" will teleport them into a haunted house/roller coaster/lightgun experience that takes them through levels based on "The Dark Pictures Anthology," as well as a few novel ones. The game will also leverage some of the PS VR2's technological advances, such as haptic feedback.
If these assumptions are correct and "The Dark Pictures: Switchback VR" is anything like "Until Dawn: Rush of Blood," "Switchback" will be a fun, semi-scary game that evolves the lightgun formula with VR. Like other lightgun games, "Switchback" will probably be short — "Rush of Blood" is about two hours long — but it will be a blast while it lasts.
Tchia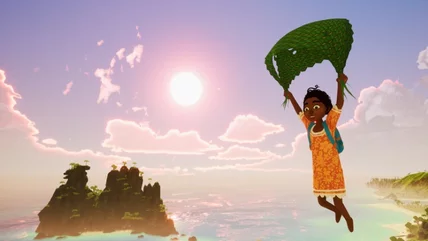 Video games are inspired by cultures and events from all over the world. Games based on Norse and Greek mythology are common to the point of being trite, but some games draw from more obscure locations and cultures.
"Tchia" is the second game developed by the indie studio Awaceb but is the company's first title for consoles like the PlayStation. The game puts its best foot forward with a colorful and appealing art style, and its world is heavily inspired by the little-known nation of New Caledonia — a French territory island a few hundred miles east of Australia.
While "Tchia" is visually appealing, the meat of its experience will sprout from its world. The game will be fully explorable and even feature a novel "Soul Jumping" mechanic that lets the protagonist, the titular Tchia, possess animals and objects. Sure, you can control seagulls and dogs, but what other game lets you possess an oil barrel or lamp? On that note, how many games take place in a semi-fictionalized version of New Caledonia? "Tchia" not only promises to give players a memorable, open-world experience, but it will also introduce many gamers to a beautiful land and culture.
Season: A Letter to the Future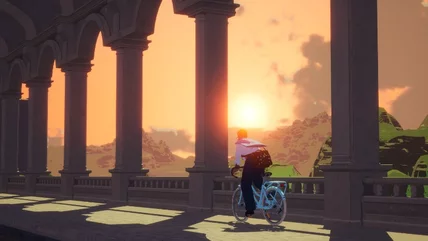 Most games are based around challenges. Combat, platforming, and puzzles are just a few examples. But some games only want to provide a relaxing experience.
"Season: A Letter to the Future" is the second game by Scavengers Studio and a very different beast compared to its previous title, "Darwin Project." Judging by trailers, the best way to describe "Season" is a bicycle trip across a mysterious land. Players will have to, or perhaps it would be better to say they can, chronicle the world's last days through photographs, recordings, and a diary.
The demo presents "Season: A Letter to the Future" as an emotional experience that will let players create their own memories. Gamers will be in charge of what they record and for how long, what pictures they take (and what angles and filters they use), and so much more. Audiences who are looking for a challenge might not necessarily enjoy "Season: A Letter to the Future," but gamers who want to unwind after a long day of work or school will no doubt enjoy the title.
Bramble: The Mountain King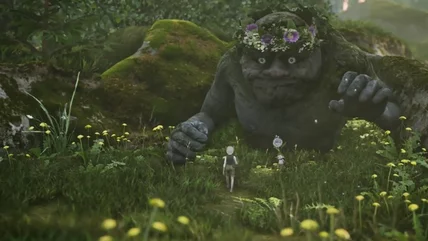 Games don't necessarily need to be complicated in order to be fun. Titles such as "Inside" and "Little Nightmares" demonstrate that simplicity is just as if not more effective, especially when developers are aiming for a specific theme like horror.
"Bramble: The Mountain King" is the second title by Dimfrost Studio. Previously, the company developed the VR title "A Writer And His Daughter," which was supposed to be the first part of a trilogy, but instead of making a sequel, the studio instead started work on "Bramble." The game draws heavily from Nordic stories. One second the main protagonist is riding on the back of a giant hedgehog (or maybe the main character is tiny), the next he is running for his life from a waterlogged zombie violinist. And that's only a sample of how dark and grim the game will get.
Recently, Dimfrost released a demo for "Bramble," and the game hits many of the same notes as titles like "Inside." Levels and movement are kept simple with a minimum of button presses, and platforming and puzzles rely on timing. Moreover, sound design does a lot of heavy lifting for the atmosphere. Fans of deceptively moody and dark platformers will no doubt flock to "Bramble: The Mountain King" when it releases in 2023.
Schim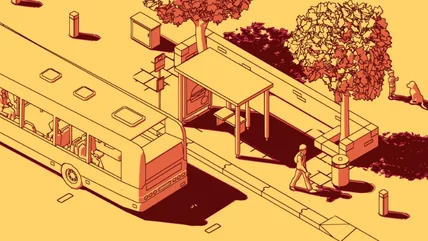 Several months ago, Sony and indie developer Exould van der Werf announced the game "Schim." Judging by the trailer, the game is heavily inspired by "Untitled Goose Game," the beloved cult classic that asks players to solve puzzles by using a goose's ability to honk and be a general nuisance. Gamers loved the simplicity and pleasing art style, and maybe they weren't the only ones drawn to the title. Like that title, "Schim" will boast a pleasingly simple aesthetic and features organic, environmental puzzles strewn around the game world.
While "Schim" is seemingly inspired by "Untitled Goose Game," it sets itself apart with isometric platforming. Players can only move by jumping into shadows and using them to open new pathways. Since "Schim" is Exould van der Werf's first game — or at least the first one we know about — it's tough to guess how it will turn out since we have nothing to base our expectations on. But the trailer looks as promising as it does lovely.
Pacific Drive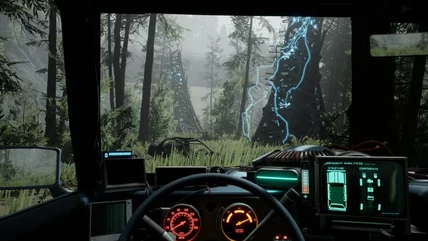 Survival games are as popular as they are common. Usually, they ask players to survive isolated islands, build shelters, and manage meters that govern the protagonist's hunger, thirst, and sleep levels. A solid formula to be sure, but so many games use these systems that players are often driven to survival titles that switch things up.
"Pacific Drive" is the first game developed by Ironwood Studios, and like many survival titles, it will force players to endure in an isolated area. But this time, gamers will have to maintain and upgrade a car in a wilderness filled with "anomalies." These will include pools of acid, freak electrical storms, and "instability fronts" (via the trailer). Moreover, the game's website states "Pacific Drive" will be "run-based," which means no two players will have the same experience. As the site puts it, the game is a "road-lite," as corny as that sounds.
If the trailer is any indication, "Pacific Drive" is going to be a mix between "S.T.A.L.K.E.R." (survival horror games that take place in a Chernobyl Exclusion Zone filled with reality-defying anomalies) and "Beware" (an indie open world horror driving simulator). Both are fun, if underrated, games, so what happens when you mix the two? Should be enjoyable to witness when "Pacific Drive" releases next year.
LEGO Star Wars: Castaways
LEGO Star Wars: Castaways is the latest installment in the LEGO Star Wars universe, one created specifically for the Apple Arcade platform. This title offers a social action-adventure experience set on an abandoned secret planet filled with technology from an ancient civilization. Players can create their own characters, explore an island, participate in battle arenas, relive "key Star Wars moments" in the LEGO versions of iconic locations, and more.
LEGO's rich Star Wars video game history goes back to 2005 with the release of LEGO Star Wars: The Video Game for the Game Boy Advance, Nintendo GameCube, PlayStation 2, Xbox, and other retro systems.
The new Apple Arcade exclusive Castaways represents a shift to mobile, bringing similar gameplay to the iPhone you already carry around. Gameloft, the company behind the new title, created a robust entry for the LEGO Star Wars franchise that ties together fan-favorite moments and an entirely new world, a new set of characters, and a unique storyline.
This makes the title not only appealing as a game that can be played repeatedly without getting bored, but also as an expansion of the wider Star Wars universe's rich narrative for dedicated fans who can't get enough. LEGO Star Wars: Castaways is rated for players ages 9 and older, can be played online with friends, and includes controller support.
NBA 2K22 Arcade Edition
2K brought an exclusive version of 2K22 to the Apple Arcade platform in October, giving basketball fans another way to enjoy the game on their iPad or other Apple devices. The game allows players to put in the work for All-Star status or, with "The Association," climb the ladder to become a Head Coach or GM for an NBA franchise. Top NBA athletes are included in Arcade Edition, including Jayson Tatum and Damian Lillard, among others.
The developer promises an "authentic" experience similar to what players get with the company's console titles, but with the big perk that basketball fans can take the game with them anywhere via the iPhone and iPad. NBA 2K22 Arcade Edition has already been updated with the 2022 player roster, plus there's online multiplayer support, three vs. three "Blacktop" street game mode, a Career mode starting as a rookie, and 30 NBA teams to pick from.
2K22 Arcade Edition is suitable for players ages 4 and older. In addition to improved controls and compatibility with PlayStation and Xbox controllers, the title also has an AI assist feature for defense and offense teams, plus a Casual controller option for players who need the help.
Crossy Road
Crossy Road+ is the Apple Arcade version of the popular Frogger-like title already available on mobile devices and other platforms like Fire TV. The game, which is rated for ages 9 and older, presents a blocky world full of cars and other obstacles players must avoid while getting to the other side of the road(s). In addition to controller support, Crossy Road is great for devices with limited storage at only 273MB.
Hipster Whale's arcade title was first released in 2014, earning high marks from critics, as well as coming in as a finalist for the Australian Game Developer Awards' 2014 Game of the Year Award. Apple awarded Crossy Road an Apple Design Award in 2015, helping spur two spin-off titles: Disney Crossy Road and Crossy Road Castle (via CNET).
The game offers Apple Arcade subscribers a modern take on classic arcade hits like Frogger with the convenience of quickly toggling between an iPhone and Apple TV, for example. The Arcade version of Crossy Road is rated for players ages 9 and older; it includes controller support and some gameplay tweaks for Arcade, including more rapid progression via quests and the addition of Crossy Park.
Thumper: Pocket Edition
Thumper: Pocket Edition brings a colorful space beetle to Apple Arcade, tasking players with navigating nine colorful, intense levels packed full of psychedelic visuals and boss battles. Though Thumper wasn't made exclusively for Apple Arcade, the Pocket Edition version was redesigned to make gameplay possible with a single hand.
Many games released for Apple Arcade in 2021 were of the action-adventure, platformer, and puzzle varieties. Thumper is a refreshing alternative as a rhythm-based title that revolves around an original soundtrack and what developer Drool calls "synesthetic bliss," the combination of which has earned it more than 25 game awards and award nominations.
The game is unique, ridiculously fun, and suitable for players ages 9 and older. Even better, Thumper: Pocket Edition includes 120fps gameplay on devices that support it. Keep in mind that for the best experience, Drool says players should use wired, not wireless, headphones during gameplay due to potential audio latency issues.
LEGO Star Wars Battles
LEGO Star Wars Battles is another title from the Star Wars universe that hit Apple Arcade this year. Unlike Castaways, however, Battles is a real-time strategy game with player-versus-player battles set in a variety of arenas. This gives Star Wars fans the opportunity to experience the universe and its characters as part of the highly popular tower defense genre.
Whereas many tower defense games are relatively simplistic in terms of character upgrades and storylines, Battles manages to evolve the genre with robust elements like Force mastery, assembling unique armies involving more than 40 units from different Star Wars eras, and real-time multiplayer battles. Can Porgs take on Stormtroppers? This game will let players find out.
LEGO Star Wars Battles is suitable for players ages 9 and older, it supports up to two local players, and though a controller isn't required, one can be used if desired. As well, this game supports offline gameplay with the exception of online multiplayer mode.
Castlevania: Grimoire of Souls
Castlevania: Grimoire of Souls arrived on the Apple Arcade platform on September 17, giving fans of the beloved franchise an entirely new title to enjoy. The Castlevania universe dates back to the first title released in 1986, spurring the release of dozens of additional titles in the decades since.
Grimoire of Souls was made by Konami specifically for the Apple Arcade platform to give subscribers an entirely new storyline. The game includes combat styles unique to each of its characters, a variety of level bosses, several different game modes, and the threat of Count Dracula's castle returning to unleash monsters on the world.
Castlevania fans will want to check out this title given its exclusive nature, while Apple Aracde subscribers who haven't previously experienced Konami's dark world have the chance to play it for the first time at no extra cost. Grimoire of Souls is rated for ages 9 and older; it includes controller support and is designed with an old-school side-scrolling action format.
Asphalt 8: Airborne
Popular racing game Asphalt 8: Airborne hit Apple Arcade in late August, offering up to eight players the opportunity to race each other in a variety of stunning landscapes. The game includes cars from some of the world's most notable makers, including Audi, Mercedes, Ducati, and Ferrari, as well as an extensive career mode with more than 400 career events.
Asphalt 8: Airborne was first released back in 2013, skyrocketing to popularity as one of the highest quality games available on mobile platforms. The title's continued success nearly a decade later underscores its quality, which has been maintained via many updates over the years and evolving support for the latest mobile gaming hardware.
Gameloft has earned multiple awards for its racing title, including the 2014 Pocket Gamer Award. Asphalt 8: Airborne+, the version exclusive to Apple Arcade, is a bit different from the Android version, including the older garage layout and the ability to unlock and upgrade every car entirely through gameplay.
Asphalt 8: Airborne+ is rated for players ages 12 and older, but keep in mind the title's 2.7GB size — you may need to uninstall a few apps to make room for the game.
Detonation Racing
If you're burned out on Asphalt 8 and looking for a different racing game, check out Detonation Racing added back in July. Developer Electric Square calls its title the "least sensible racing series ever devised." What makes it so chaotic?
Detonation Racing is full of hazards and amusing gameplay, including the ability to drop submarines on the track to knock out opponents, explosions, and even taking different routes (mostly caused by explosions) to win. The title's absurd nature distinguishes it from the other racing games available on iOS and makes it a rarity on Arcade specifically.
Detonation Racing offers local multiplayer support, online gameplay, and solo racing, covering the needs of just about every player. As well, the title has full crossplay for Apple's ecosystem, meaning it can be accessed on an iPhone, Apple TV, or even a MacBook. The game is suitable for players ages 9 and older; it includes multiplayer support for up to four racers, plus controller support.
Alto's Odyssey: The Lost City
The endless runner game Alto's Odyssey took off in mobile gaming circles a few years ago when it launched. Fast-forward to this past summer and Apple Arcade subscribers now have access to Alto's Odyssey: The Lost City, a similar title that offers new landscapes across four different biomes.
Players are tasked with finding The Lost City and uncovering its secrets, all the while riding a sandboard as the core gameplay element. The Lost City is notable because it brings both the original game and expanded content to the Apple Arcade platform. As such, players new to Alto's Odyssey will get the full experience from start to finish, discovering why the title earned itself an Apple Design Award for Outstanding Design and Innovation.
The title is rated for players ages 4 and older, plus there's controller support. Even better, the game requires very little device storage space at only 183MB.
Leo's Fortune
Leo's Fortune, a mobile platformer that revolves around getting back stolen gold, presents some of the best graphics you'll find on Apple Arcade. Each of the game's 24 levels features beautiful atmospheric designs that look particularly stunning on Apple's 4K devices, while the overall gameplay is reminiscent of older PlayStation 3 platformer titles.
The game was first released in 2014, raking in high marks from critics and players while offering some of the best visuals among mobile games. The title's quality is underscored by its enduring popularity several years later, as well as its 2014 Apple Design Award and App Store Best of 2014 award.
Though the title has been available on other platforms for a while, 2021 marks Leo's Fortune's arrival on Apple Arcade, giving a new generation of players the chance to experience the platformer for the first time. 1337 & Senri's mobile title is rated for players ages 9 and older.
Star Trek: Legends
Star Trek: Legends was one of many titles dropped on Apple Arcade back in April. The mobile game allows Trekkers to play as their favorite characters from every generation of the TV shows. Legends is an RPG with battles, turn-based combat, and exploration.
The game includes excellent 3D graphics for a mobile game, as well as the ability to download updates in the background while continuing to play. Legends gives Star Trek fans the opportunity to find and learn about new worlds in the sci-fi universe, operate the U.S.S. Artemis, and utilize classic abilities like the Vulcan nerve pinch.
Though many board, computer, and console games based on Star Trek have been released since the 1980s, the number of mobile games based on the hit is still limited. EA's Star Trek: The Mobile Game kicked off the lineup back in 2009 as an Apple exclusive, spurring the release of another nine titles — including Legends — in the years since. The game is unique in that it allows players to shape the story's outcomes by making a variety of choices during gameplay.
Star Trek: Legends is a single-player game is rated for gamers ages 9 and older.
The Oregon Trail
Gameloft's The Oregon Trail arrived on Apple Arcade back in April, giving a new generation of players the opportunity to experience a reimagined version of the hit 1971 game by the same name. The Oregon Trail features a mixture of retro-like pixel art and more modern graphics, as well as a storyline that mixes "the totally extreme" in with historically accurate elements.
Gameloft's The Oregon Trail is an excellent update to the classic game, giving kids the chance to see what all the hype is about, but with some important changes. Among other things, this new version of the game includes a better, more respectful representation of Native Americans compared to the original title.
As such, this title represents the first time The Oregon Trail has included the ability to play as Native American characters, learn about their history and cultures, and understand the impact westward expansion had on indigenous peoples.
The game's developer rates The Oregon Trail as suitable for kids ages 12 and older; it supports controllers, but requires a somewhat hefty 2GB of storage space.
The Room Two
The Room Two, which arrived on Apple Arcade around the beginning of 2021, boasts nearly perfect ratings in the App Store at 4.9 out of 5 stars. The puzzle game tasks players with following a scientist's letters as they explore a unique environment and try to solve a mystery.
This game was first released in 2013 on mobile and Windows PCs from Fireproof Studios. In addition to maintaining solid ratings in the years since, the title was also nominated for multiple awards, including the 2014 and 2015 BAFTA Games Awards.
Though first developed for the iPad, Fireproof later updated the game with support for the iPhone in 2014, followed by the Android version only weeks later. The Apple Arcade version of the game is called The Room Two+ and is rated for players ages 9 and older.
Angry Birds Reloaded
There's a reason new Angry Birds games are still being made more than a decade after the initial game's launch. The incredibly popular series returned earlier this year with the release of Angry Birds Reloaded on Apple Arcade, giving fans access to a variety of new birds, pigs, and puzzles to solve by launching birds at pigs.
Players can expect a total of 45 new levels in the Apple Arcade release of this Angry Birds game, a new Eagles game mode, and the same slingshot-based gameplay first experienced back in 2009. Angry Birds Reloaded is essentially a semi-remake of the original game, which won Casual Game of the Year and is notable as the first mobile game to ever get a Game of the Year nomination.
The classic gameplay and levels are joined by additional worlds based on the Angry Birds movies, as well as characters from some of the other games in the series. Angry Birds Reloaded is rated for kids ages 4 and older, plus there's controller support and only a 460MB installation size.